Through experience and innovation, Old Town Fiberglass has the expertise to successfully produce waterproof liners, on-site, for extremely large and irregularly shaped planters or water features.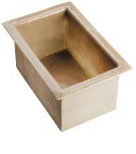 We also have the capability to spray-coat exposed fiberglass surfaces, on-site, with our standard colors and finishes or your custom color. And liners can be supplied with optional drains for installation by your contractor to ensure proper drainage.
Old Town planter liners are used for custom concrete, masonry and framed plant containers of any size and configuration. Old Town liners are usually custom fabricated for containers or water features designed and integrated into commercial architectural projects.
There are several methods of creating strong, durable waterproof liners. Regardless of the method used, the result is a single, monolithic, tub-like container. These containers are ready to accept your soil and vegetation and choice of irrigation and drainage method.