Reinforcement for mechanical fastening
If a planter is to be fastened to a wall or if you wish to fasten a screen to a planter, appropriate internal reinforcement is recommended. Plywood reinforcing panels laminated into the planter at the time of manufacture will ensure that the mechanical attachment is secure and will not compromise the structural integrity of the planter. See drawing below for typical plywood placement (shown in orange). Please discuss your application with Old Town Fiberglass and we will recommend appropriate structural enhancements. Extra charges will apply and will be quoted by Old Town Fiberglass at time of order.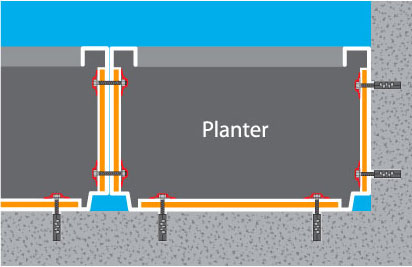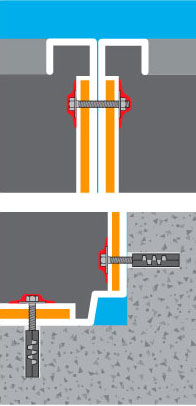 Old Town Fiberglass suggests that corrosion- resistant (stainless steel or equivalent) bolts, over-sized flat washers and hex nuts be used with corrosion-resistant anchors or expansion shields. Select a bolt diameter appropriate for the size and weight of the planter and the number of bolts used. To prevent leaks and water migration into the plywood panels, all exposed hardware inside the planter must be completely covered and sealed after installation with a flexible, waterproof mastic or equivalent sealant.