Introducing the Ming
The latest offering from Old Town Fiberglass. Featuring a design that blends classic and modern styles, the Ming's sweeping contour and seductive lines add a distinctive touch to any interior or exterior application. THe optional insert shelf eliminates the need for filling the entire pot, creating a lightweight alternative to ceramic or cast concrete.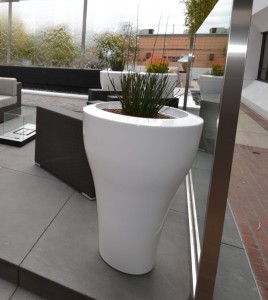 | Model # | Outside* | Inside* | Height | Rim | Weight |
| --- | --- | --- | --- | --- | --- |
|  MG2440 | 24″ |  18″ | 40″ |  3″ |  28 lbs |
* Measurement of diameter
(* from left to right: Gloss, Orange Peel, Sand, Matte)
Color Disclaimer
Colors and finishes are presented as accurately as this reproduction process allows and may not be accurate. If color and finish are critical, order a color/finish sample before placing your order. Old Town Fiberglass can only ensure that actual product colors and finishes are a close match to our production samples.
Contact Us To Request Samples
Internal Reservoir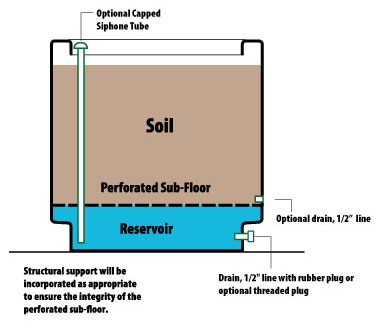 A fiberglass, perforated "sub-floor" is positioned 3″ above the planter floor. This partition allows water to drain into the reservoir below. The reservoir acts as an irrigation system by watering the plant's root ball. The sub-floor is permanently laminated into the liner but upon request may be made removable. An optional drain can be installed in the sub-floor to ensure that water does not rise above this level—there is never any concern of overfilling. Upon request an optional threaded drain fitting with screw cap is provided for easily controlled drainage. This drain can be connected to a permanent PVC drain line (by others) for added convenience.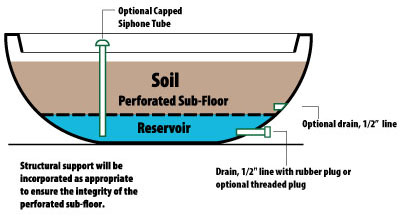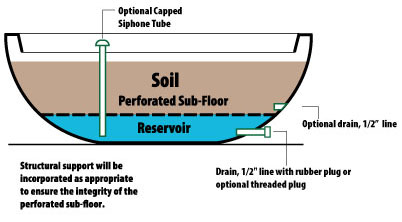 For typical irrigation, water thoroughly from the top to be sure all the soil has been moistened and the water reservoir is full. Begin normal water frequency (once every one to two weeks). Let the plant use the water retained in the reservoir before watering again.
Sub-irrigated foliage benefits from "lighter" mixes with larger particles and more air space. Prepare the soil above the sub-floor with coarse perlite. Filter fabric may be used at this point to prevent soil and roots from entering the reservoir.
Drain Holes
Contact Us For Pricing